Back Taxes Assistance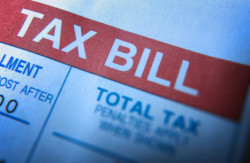 Don't let IRS back taxes create an ever greater financial burden for your family or your business. With hefty penalties, fees, and interest rates associated with back tax debt, late returns, and delinquent taxes, you can easily find yourself in a precarious financial situation. Don't let your quality of life suffer from the consequences of skyrocketing interest rates and fees—instead, call The Levy Group of Tax Professionals and put an end to your spiraling back taxes right away. We specialize in back taxes, and we'll provide you with the expert tax assistance you need to get back on the road to recovery as soon as possible.
Regardless of how much you owe in back tax debt, you'll find the sympathetic and professional help you deserve right here. The specialists at The Levy Group of Tax Professionals are the Detroit area's answer for comprehensive back tax relief, and we'll put our 22 years of experience to work for you. We work efficiently yet diligently to make certain that you get the most effective solution for your tax problems. Our team will help you:
File late tax returns, avoiding further penalties
Correct errors made on past tax returns or returns filed by the IRS
Select a tax resolution strategy that's appropriate for you
Negotiate tax settlements
Set up a back tax payment plan so you can move forward
Advise you on avoiding problems with IRS back taxes in the future
We've been in the back tax assistance business for over two decades, and in that time, we've seen virtually all there is to see when it comes to the causes and effects of delinquent taxes. Our tax settlements and penalty abatement negotiations are known to be some of the most effective in the Detroit area, and we'll make it our mission to solve your back taxes while still remaining in total compliance with the IRS. Through a combination of in-depth training and affiliations with some of the most reputable organizations in the business—including the American Society of Tax Problem Solvers (ASTPS), National Association of Tax Resolution Companies (NATRC), and the National Association of Tax Professionals (NATP)—we maintain some of the most dependable knowledge of federal and state tax codes around. When you come to us for tax assistance, you can rest assured that your finances are in the most capable hands.
Back tax situations vary, but no matter what kind of delinquent taxes or debts you're facing, you can rest assured that The Levy Group of Tax Professionals will be on your side to help you get the affordable and beneficial resolution you deserve. Our mission is to offer help with back taxes that doesn't cost you an arm and a leg—after all, the penalties associated with your unpaid taxes can be expensive enough without tacking on a tax firm's inflated fees. That's why we keep our rates at a manageable level and even offer free estimates! Whether you're filing a tax return late or are dealing with the repercussions of unpaid taxes, you can count on us to serve your best interests financially at all times. 
Back Taxes Help As Soon As You Need It
At The Levy Group of Tax Professionals, we understand that time is of the essence when dealing with your back taxes. Delinquent taxes will collect heavy fines and interest rates if left unattended, which is why it's vitally important for you to act as quickly as possible. To keep your debt in a manageable state, you'll need to contact our office at your earliest convenience. Once we've conducted our initial consultation with you, we'll immediately get to work on devising a plan that will bring your IRS back taxes to an end. Whether you're filing a tax return late or you're contending with a property lien or wage garnishment, you'll be able to count on us to stop your financial loss in its tracks. With The Levy Group of Tax Professionals on your side, your back tax issues will be a distant memory before long. Call or e-mail us today to set up an appointment!
Prior Taxes Help
Penalty Abatement Assistance
Tax Help
Offer in Compromise Assistance