IRS Penalty Abatement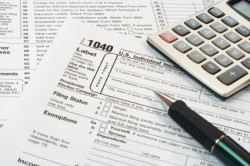 As most taxpayers know, having late or unpaid taxes on your record means being subjected to heavy penalties, fines, and interest rates. Unfortunately, if you don't pay what you owe, the government is authorized to take action against you or your business in order to ensure that they're repaid. In some cases, this means that you might be faced with a serious penalty, such as an IRS wage garnishment, bank levy, property lien, or one of the myriad other tax liens that could be used as leverage against you. When you're saddled with a tax penalty, call The Levy Group of Tax Professionals. Our team will help determine whether you quality for a form of penalty abatement, in which the IRS forgives a portion of your debt or allows you to remit payment on your own terms. We'll work to help you remove any garnishments, liens, or levies so that you can get your finances back on track as soon as possible. We're here to help!
Common tax penalties include:
Tax levies: An IRS tax levy is the most serious tax penalty, as it is the government's last effort to collect on unpaid taxes. Call The Levy Group of Tax Professionals right away if you've received notice of an IRS tax levy, lest your home, vehicle, bank accounts, and other assets fall into the possession of the IRS. Our tax abatement specialists will petition to have the levy removed and negotiate an IRS installment payment plan so that you can repay your tax settlement on your own terms.
Tax liens: When your back taxes have been delinquent for an extended period of time, you might receive notice of an IRS tax lien. A tax lien is a procedure in which the government takes possession of your assets if your failure to pay continues. Don't cripple your future finances and credit score by allowing an IRS tax lien to take hold—call The Levy Group of Tax Professionals today and let our team take care of it for you.
IRS wage garnishment: Failure to pay your taxes could also result in the government deducting a certain percentage of your monthly earnings in order to compensate for the debt. Sadly, an IRS garnishment can cause serious hardships for your finances, as it will prevent you from putting money toward essential bills and monthly expenses. The Levy Group of Tax Professionals will work with you and the IRS in order to have your garnishment released and protect your financial security for the future.
Fees and interest charges: While fees and interest charges are the least serious of all the possible tax penalties, they are still nothing to scoff at. Monetary fees can add up quickly, which only serves to make your tax debt even more difficult to pay off. If you have a legitimate explanation for why you were unable to pay your taxes on time, then call The Levy Group of Tax Professionals. We'll gather all the necessary paperwork and negotiate with the IRS on your behalf to secure a penalty abatement plan that perfectly suits your situation. 
No matter kind of tax penalty you're facing, you can rest assured that The Levy Group of Tax Professionals will work tirelessly to secure the results you deserve. We're fully licensed and insured, and we're also members of nationally renown organizations like The American Society of Tax Problem Solvers, the National Association of Tax Resolution Companies, and the National Association of Tax Professionals. In fact, we even have an A+ rating from the Better Business Bureau. Our mission is to provide you with the best tax resolution services in Detroit, and we'll make certain that your tax penalty abatement experience is thoroughly affordable, satisfying, and stress-free. We're available around the clock to help lift threatening income tax penalties, so don't hesitate—say goodbye to your state or federal tax penalties when you call today!
IRS Tax Penalties
IRS Tax Levy Assistance
IRS Tax Help
Tax Lien Relief
IRS Garnishment Help