Tax Attorneys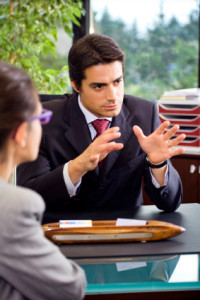 Although there are countless tax professionals in Detroit who can address your tax problems at the administrative level (filling out paperwork, for example), there are very few who are qualified to represent you in a federal tax court. While every tax problem is different, competent representation in court could mean the difference between successfully obtaining tax relief and being stuck with expensive tax penalties. That's why, when you're facing a federal or state tax court for any reason, you need to call The Levy Group of Tax Professionals. Our team comprises some of the most skilled tax attorneys in the Detroit area, and we have what it takes to assist your tax resolution matters every step of the way. Moreover, our staff even includes enrolled agents, who are licensed and authorized by the federal government to appear before the IRS in court. With the unbeatable combination of legal acuity and tactical negotiating, The Levy Group of Tax Professionals is your ticket to swift, satisfying results.
Call our tax attorneys and enrolled agents for:
Tax court representation
Tax settlement negotiation
Back taxes filing and resolution
IRS audit representation
IRS penalty abatement or reduction
Corporate tax resolution
And more
Only tax lawyers with a special degree of tax code fluency and comprehension are able to deliver truly effective results when it comes to the above projects. At The Levy Group of Tax Professionals, all of our tax attorneys are board-certified law school graduates who have spent several years working with a variety of clients on federal and state tax issues. There are very few tax law attorney teams in Detroit that are able to match the depth of our understanding and experience. Furthermore, as members of the NATRC, ASTPS, and NATP, our tax lawyers and enrolled agents have access to virtually limitless resources that allow us to stay up to date on all of the latest tax law revisions. When you need tax resolution of any kind, you can rely on our knowledgeable team of tax attorneys in Detroit for all of the information, guidance, and support you need.
Be wary of tax consultants and accounting firms that don't staff any tax attorneys and only consult lawyers on a case-by-case basis. While their legal counsel will surely be very sound, it won't be directly available to you when you're in a pinch. That's the advantage of The Levy Group of Tax Professionals: we actually have tax law attorneys on our staff, so you'll be able to access our legal knowledge efficiently and directly while avoiding the hassle of a middleman.
In fact, what sets us apart even further from other tax attorneys in Detroit is the fact that we stay open for business 24 hours a day, 7 days a week. Why? Most tax problems are extremely time-sensitive, and we want to make certain that you're able to get the legal advice or representation you need as soon as you need it. After all, tax issues are harrowing enough without having to worry about working around a tax attorney's limited schedule. At The Levy Group of Tax Professionals, we're here to secure successful tax resolution for you by making ourselves as available as possible.
Budget-Conscious Tax Attorneys in Detroit
If you're anxiously weighing the severity of your tax problems against the expense of a tax attorney, there's good news: The Levy Group of Tax Professionals is one of the most affordable tax attorney teams around. We're dedicated not only to maintaining high-quality services, but also to providing those services at a rate that won't break the bank. We understand the impact that back taxes and IRS penalties can have on your finances, which is why we strive to keep our tax lawyer services as affordable as possible. In fact, we even offer free cost estimates for our services, so you'll be able to confer with our professionals before deciding what's best for your situation.
If you're ready to enjoy the benefits of true legal expertise when it comes to whatever tax issues you're facing, then don't put it off—call The Levy Group of Tax Professionals today to get started!
tax lawyers
attorney taxes
tax law attorney
tax attorney
tax attorney in